IN THE PRESENCE OF ALMIGHTY GOD
24-01-2011
by MIKE TAYLOR, MINISTER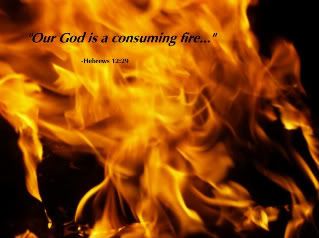 How do you approach Almighty God and be in His presence? Have you ever tried to fathom in your most inner thoughts, the awesomeness of the God we serve? I'm not talking about the grandfather in the sky type gentleman, with flowing white hair and blue eyes that you see on the Sistine Chapel. It's a pretty painting ,but not what I envision God as being in reality. I'm talking about an infinite, all powerful, and all knowing Spirit that defies our imagination or ability to even fully comprehend. In His infinite power, He made what we see all around us. He made the stars, the heavens, the planets, and the vast universe. He made the trees, the flowers, the plants that fill the earth, and even the smallest of the small, right down to one cells that comprise bacteria. And He made you and me. All were made by Him and for Him…The Bible mentions who made the heavens and the earth of creation. John 1:1:
1:1 In the beginning was the Word, and the Word was with God, and the Word was God.
1:2 The same was in the beginning with God.
1:3 All things were made by him; and without him was not any thing made that was made.
In the book of John, it speaks of the man we called Jesus, who before He became man and dwelt on the earth with a salvation mission in His Spirit, He was the Word of God. He was an extention of the Father, in essence, in power, and authority. He and the Father were ONE and continue to be ONE. Now, many have rejected the man called Jesus, but many have accepted His free offer of grace and mercy, but for some reason, some don't believe or fear this man. They don't believe He was God in the flesh. Men during Jesus walk on earth and were in the presence of Almighty God and they didn't perceive it, even though they had been told that He would come, during the time of His arrival. What did John say? John 1:5,
1:5"And the light shineth in darkness; and the darkness comprehended it not."
Further down, John writes:
1:11 He came unto his own, and his own received him not.
1:12 But as many as received him, to them gave he power to become the sons of God, even to them that believe on his name:
1:13 Which were born, not of blood, nor of the will of the flesh, nor of the will of man, but of God.
1:14 And the Word was made flesh, and dwelt among us, (and we beheld his glory, the glory as of the only begotten of the Father,) full of grace and truth.
But let's back up and see another vision of what God is and what would see, if we were in His presence, His glorified essence and saw Him in all His glory.
There are only three men in the Bible who have been in the presence of an all powerful, righteous Judge of the earth. Two gave a powerful description of what they saw and His glory and the other heard things that should not be uttered by man. First one mentioned is found in Ezekiel chapter 1:
1:26, "And above the firmament that was over their heads was the likeness of a throne, as the appearance of a sapphire stone: and upon the likeness of the throne was the likeness as the appearance of a man above upon it.
1:27 And I saw as the colour of amber, as the appearance of fire round about within it, from the appearance of his loins even upward, and from the appearance of his loins even downward, I saw as it were the appearance of fire, and it had brightness round about.
1:28 As the appearance of the bow that is in the cloud in the day of rain, so was the appearance of the brightness round about. This was the appearance of the likeness of the glory of the LORD. And when I saw it, I fell upon my face, and I heard a voice of one that spake.
Ezekiel tries to convey what he saw in a vision of the very throne room of God. He describes four living creatures with wings and how they moved and the "wheel within a wheel, full of eyes round about". Could he have been describing what we see as rotating electrons around a central core, the nuclear symbol? Was the power he saw, atomic? I've always wondered, but by any means, great power. But when he gets to the description of the One who sat on the throne, I'd say, "He lost it." I know I would have if I were in the very presence of such power that could have consumed me or anything in its path. We know the power of a nuclear blast. This was the source of that much power. Ezekiel fell on his face, as a dead man and he heard Him speak.
The second experience that is spoken of by Paul, in II Corinthians 12:1,
12:1 It is not expedient for me doubtless to glory. I will come to visions and revelations of the Lord.
12:2 I know a man in Christ who fourteen years ago--whether in the body I do not know, or out of the body I do not know, God knows--such a man was caught up to the third heaven.
12:3 And I know how such a man--whether in the body or apart from the body I do not know, God knows--
12:4 was caught up into Paradise and heard inexpressible words, which a man is not permitted to speak.
It is credited to Paul as being the one he speaks of being caught up into paradise to hear words that are not permitted for man to speak. He didn't give a description of what he saw or what he heard, but was undeniably in the very throne room of God. Could it explain why Paul was so zealous for the Lord. Can it explain why he was "on fire" for spreading the gospel, more than any other apostle mentioned in the bible, because he saw and heard from Almighty God in His very presence? It does not expressly say, but leaves you with the impression that Paul saw God in a vision and heard His voice and gave him words that guided his actions of things to come. See I Thessalonians 4:16-18.
The last one is of John the Apostle in writing down what He saw in a vision of the very throne room of God.
First, He sees the Glorified Savior, our Lord Jesus Christ in the first chapter.
1:10, "I was in the Spirit on the Lord's day, and heard behind me a great voice, as of a trumpet,
1:11 Saying, I am Alpha and Omega, the first and the last: and, What thou seest, write in a book, and send it unto the seven churches which are in Asia; unto Ephesus, and unto Smyrna, and unto Pergamos, and unto Thyatira, and unto Sardis, and unto Philadelphia, and unto Laodicea.
1:12 And I turned to see the voice that spake with me. And being turned, I saw seven golden candlesticks;
1:13 And in the midst of the seven candlesticks one like unto the Son of man, clothed with a garment down to the foot, and girt about the paps with a golden girdle.
1:14 His head and his hairs were white like wool, as white as snow; and his eyes were as a flame of fire;
1:15 And his feet like unto fine brass, as if they burned in a furnace; and his voice as the sound of many waters.
1:16 And he had in his right hand seven stars: and out of his mouth went a sharp twoedged sword: and his countenance was as the sun shineth in his strength.
1:17 And when I saw him, I fell at his feet as dead. And he laid his right hand upon me, saying unto me, Fear not; I am the first and the last:
The next three chapters, John writes what our Lord commands him to write and send to the churches that were, and to the churches throughout history, would be in their time, until the last days of the apostate church. Then he is called to "Come up hither, and I will shew thee things which must be hereafter."
Revelation chapter 4:
4:2 And immediately I was in the spirit: and, behold, a throne was set in heaven, and one sat on the throne.
4:3 And he that sat was to look upon like a jasper and a sardine stone: and there was a rainbow round about the throne, in sight like unto an emerald. (Paul tries to express the colors he saw and the power)
4:4 And round about the throne were four and twenty seats: and upon the seats I saw four and twenty elders sitting, clothed in white raiment; and they had on their heads crowns of gold.
4:5 And out of the throne proceeded lightnings and thunderings and voices: and there were seven lamps of fire burning before the throne, which are the seven Spirits of God.
Can we get a glimpse of the awesome power that is the God we serve? He's not made of wood, or stone, or some inanimate object, but an all powerful and all knowing Spirit of intense, consuming Fire. We cannot capture Him in a painting, or a statue. No idol can represent the awesome power of a LIVING GOD.
Even when Moses saw the power of God on God's holy mountain at Mt. Sinai, that he trembled in fear.
12:18 For you have not come to something that can be touched, to a blazing fire, to darkness, to gloom,
12:19 to a trumpet's blast, or to a voice that made the hearers beg that not another word be spoken to them.
12:20 For they could not endure the command that was given: "If even an animal touches the mountain, it must be stoned to death."
12:21 Indeed, the sight was so terrifying that Moses said, "I am trembling with fear."
So how do we approach an all powerful, all consuming Spirit that Paul described :
"For our God is an all-consuming fire." Hebrews 12:29.
How can we as mere mortal humans, made of flesh and blood approach such power that is described in the end of days, our days that are upon us? Isaiah said in chapter 13
Behold, the day of the LORD cometh, cruel both with wrath and fierce anger, to lay the land desolate: and he shall destroy the sinners thereof out of it.
13:10 For the stars of heaven and the constellations thereof shall not give their light: the sun shall be darkened in his going forth, and the moon shall not cause her light to shine.
13:11 And I will punish the world for their evil, and the wicked for their iniquity; and I will cause the arrogancy of the proud to cease, and will lay low the haughtiness of the terrible.
13:12 I will make a man more precious than fine gold; even a man than the golden wedge of Ophir. (man will become almost to the point of extinction)
13:13 Therefore I will shake the heavens, and the earth shall remove out of her place, in the wrath of the LORD of hosts, and in the day of his fierce anger.
This is a time when mortal man will not be wanting to approach such power. It is prophesied at the end of days, our days, when God's fierce anger will be cast upon this rebellious planet and destruction will be everywhere.
Revelation 6
6:15,"And the kings of the earth, and the great men, and the rich men, and the chief captains, and the mighty men, and every bondman, and every free man, hid themselves in the dens and in the rocks of the mountains;
6:16 And said to the mountains and rocks, Fall on us, and hide us from the face of him that sitteth on the throne, and from the wrath of the Lamb:
6:17 For the great day of his wrath is come; and who shall be able to stand?
How can man survive such awesome power, such fearsome wrath? It is prophesied, it is coming, and all who are not found on the side of God will be destroyed. But we have a promise. We have a future and it's a glorious one. Again, Hebrews chapter 12:
12:22 But ye are come unto mount Sion, and unto the city of the living God, the heavenly Jerusalem, and to an innumerable company of angels,
12:23 To the general assembly and church of the firstborn, which are written in heaven, and to God the Judge of all, and to the spirits of just men made perfect,
12:24 And to Jesus the mediator of the new covenant, and to the blood of sprinkling, that speaketh better things that that of Abel.
12:25 See that ye refuse not him that speaketh. For if they escaped not who refused him that spake on earth, much more shall not we escape, if we turn away from him that speaketh from heaven:
12:26 Whose voice then shook the earth: but now he hath promised, saying, Yet once more I shake not the earth only, but also heaven.
12:27 And this word, Yet once more, signifieth the removing of those things that are shaken, as of things that are made, that those things which cannot be shaken may remain.
12:28 Wherefore we receiving a kingdom which cannot be moved, let us have grace, whereby we may serve God acceptably with reverence and godly fear:
And who gives us the promise of a coming Kingdom that cannot be moved and escape His coming wrath and receive this coming Kingdom?
Romans 5:8-10:
5:8 But God commendeth his love toward us, in that, while we were yet sinners, Christ died for us.
5:9 Much more then, being now justified by his blood, we shall be saved from wrath through him.
5:10 For if, when we were enemies, we were reconciled to God by the death of his Son, much more, being reconciled, we shall be saved by his life.
So how do we come into the presence of Almighty God?
8:29 For whom he did foreknow, he also did predestinate to be conformed to the image of his Son, that he might be the firstborn among many brethren.
8:30 Moreover whom he did predestinate, them he also called: and whom he called, them he also justified: and whom he justified, them he also glorified.
That is how we come into the presence of Almighty God who is called a "consuming fire." We come because we have been clothed with the righteousness of His son. When He looks at us, our AWESOME God sees only His Son's righteousness imparted to us, because of our faith and belief in the sacrifice of Jesus the Messiah and imparted because of His shed blood. He removes our sins at that very moment of salvation, of conversion to walk in newness of life and remembers them no more. Psalms chapter 103:
103:11, "For as the heavens are high above the earth, so great is his steadfast love toward those who fear him;
103:12 as far as the east is from the west, so far does he remove our transgressions from us.
103:13 As a father pities his children, so the LORD pities those who fear him.
103:14 For he knows our frame; he remembers that we are dust."
God knew that we could never approach Him again, after the fall in the Garden of Eden by our ancient parents, Adam and Eve, when they sinned and sin came into the world. He had a plan and it was foreordained before the foundation of the world. Ephesians chapter one:
1:4 According as he hath chosen us in him before the foundation of the world, that we should be holy and without blame before him in love:
1:5 Having predestinated us unto the adoption of children by Jesus Christ to himself, according to the good pleasure of his will,
1:6 To the praise of the glory of his grace, wherein he hath made us accepted in the beloved.
He paid the ultimate sacrifice for you and me…the death of His only Son.
3:16 For God so loved the world, that he gave his only begotten Son, that whosoever believeth in him should not perish, but have everlasting life.
3:17 For God sent not his Son into the world to condemn the world; but that the world through him might be saved.
3:18 He that believeth on him is not condemned: but he that believeth not is condemned already, because he hath not believed in the name of the only begotten Son of God. John chapter 3.

That, my friend, is the ONLY way that you can come to approach an all consuming fire, that is our AWESOME GOD. You can approach no other way, no other avenue, and no other version that any religion known to man that tries to convince you differently.
John 14:6, "I am the way, the truth, and the life. No one comes to the Father except through me.
14:7 If you have known me, you will also know my Father. From now on you know him and have seen him."
Paul wrote in:
Ephesians 5:26, "That he might sanctify and cleanse it with the washing of water by the word, ( Jesus is called the Word)
5:27 That he might present it to himself a glorious church, not having spot, or wrinkle, or any such thing; but that it should be holy and without blemish.
How do you approach an AWESOME, POWERFUL, ETERNAL, living God? You approach "Through His Son, Jesus the Christ". Any other pathway and you'll be one of the people crying for the rocks to come down upon you, to hide you from the fierceness of His wrath. Don't be amongst the ones who reject this Man/God, Jesus Christ and fail to believe what He said He was. It will be at your own peril, and eternal destruction.
God Bless you. If there is anything I can help you with, pray with about, or just listen, drop me a line at realteam1999@sbcglobal.net, This is Mike Taylor, wishing you well, till we meet at Jesus feet.