The Prayer of A Righteous Man
13-01-2011
Mike Taylor, Minister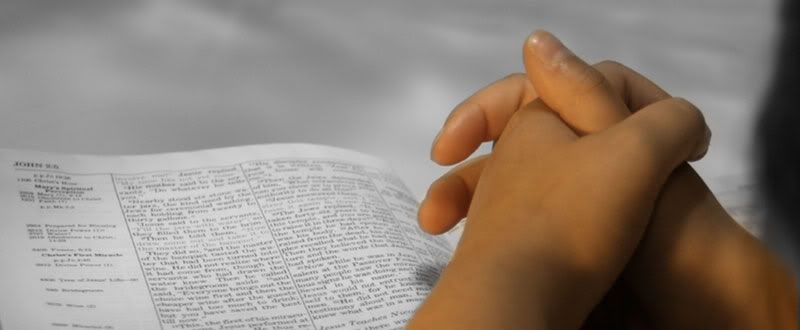 James 5:16-18 Confess your trespasses to one another, and pray for one another, that you may be healed. The effective, fervent prayer of a righteous man avails much. Elijah was a man with a nature like ours, and he prayed earnestly that it would not rain; and it did not rain on the land for three years and six months. And he prayed again, [The implication is just as earnestly.] and the heaven gave rain, and the earth produced its fruit.

Mark 11:23-24, "For assuredly, I say to you, whoever says to this mountain, "Be removed and be cast into the sea," and does not doubt in his heart, but believes that those things he says will be done, he will have whatever he says. Therefore I say to you, whatever things you ask when you pray, believe that you receive them, and you will have them."
How do we pray to Almighty God? Or do we pray at all? Let me ask, as a Christian, if you have accepted Jesus Christ as your personal Savior, do you talk to your Father in heaven? Would you ignore your best friend here on earth, or a family member that loves you deeply, and never call them, speak to them, or acknowledge that they mean so much to you? Of course, we would not. If you did, how would that make them feel? Neglected, unloved, undesirable, or abused might be some of the adjectives that they may say by not hearing from us. So how does God feel? I don't mean to speak for Him, but scripture says He desires fellowship with His children. But how do we pray? Matthew chapter 6 :
6:5 And when thou prayest, thou shalt not be as the hypocrites are: for they love to pray standing in the synagogues and in the corners of the streets, that they may be seen of men. Verily I say unto you, They have their reward.
6:6 But thou, when thou prayest, enter into thy closet, and when thou hast shut thy door, pray to thy Father which is in secret; and thy Father which seeth in secret shall reward thee openly.
6:7 But when ye pray, use not vain repetitions, as the heathen do: for they think that they shall be heard for their much speaking.
6:8 Be not ye therefore like unto them: for your Father knoweth what things ye have need of, before ye ask him.
When you are alone with God, what then? Do you ask of your Father and become timid? We realize that we as nothing in His sight apart from His Son, Jesus Christ, but as a child, how do we approach Him? There is a parable about the persistent widow women approaching the unjust king. It's found in Luke chapter 18,
18:1 And he spake a parable unto them to this end, that men ought always to pray, and not to faint;
18:2 Saying, There was in a city a judge, which feared not God, neither regarded man:
18:3 And there was a widow in that city; and she came unto him, saying, Avenge me of mine adversary.
18:4 And he would not for a while: but afterward he said within himself, Though I fear not God, nor regard man;
18:5 Yet because this widow troubleth me, I will avenge her, lest by her continual coming she weary me.
18:6 And the Lord said, Hear what the unjust judge saith.
18:7 And shall not God avenge his own elect, which cry day and night unto him, though he bear long with them?
18:8 I tell you that he will avenge them speedily. Nevertheless when the Son of man cometh, shall he find faith on the earth?
This woman approached this King with boldness, without fear, and unbridled faith that he would give unto her, her heart's desire. There is an old Hebrew word that describes what this woman exhibited. It's called "Chutzpah". In Hebrew, chutzpah is used indignantly, to describe someone who has over-stepped the boundaries of accepted behavior with no shame. But inYiddish, chutzpah has developed ambivalent and even positive connotations. Chutzpah can be used to express admiration for non-conformist but gutsy audacity.
Jesus compares God, not with a good man, but with a godless man to emphasize the vast difference between this unjust judge and the righteous God. The conduct of the unjust judge exposes the chaotic and corrupt judgments in which he had prostituted himself. No one can compel him to do anything because he feels no regard for anyone, including God. He acts purely out of self-interest. Yet, if this unjust judge could avenge a widow whom he distained, how much more will the righteous God avenge his elect?
In our bible we find many instances of this gutsy audacity (chutzpah) when asking God for our hearts desire. One example is when Moses stood in the gap between God and Israel. Israel had sinned against Jehovah, Moses had the audacity, yes the chutzpah to get a hold of God in bold prayer. It's found in Exodus chapter 32:
32:11 And Moses besought the LORD his God, and said, LORD, why doth thy wrath wax hot against thy people, which thou hast brought forth out of the land of Egypt with great power, and with a mighty hand?
32:12 Wherefore should the Egyptians speak, and say, For mischief did he bring them out, to slay them in the mountains, and to consume them from the face of the earth? Turn from thy fierce wrath, and repent of this evil against thy people.
And because of his "Chutzpah" his unrelenting boldness, God withdrew His hand from what He had thought to do.
32:14 And the LORD repented of the evil which he thought to do unto his people.
How many of us would approach the creator of the universe with this much boldness, audacity, or unrelenting faith in a righteous God that will do as we ask, within His Holy Will? Moses was persistent, unmoving, and was a type of Jesus Christ standing in the gap for the people reminding God of His promises. Moses was asking boldly for what God had already promised to their fathers before them. Likewise, God has made promises through Jesus Christ, even to us. And what are some of those promises? John Chapter 14:
14:13 And whatsoever ye shall ask in my name, that will I do, that the Father may be glorified in the Son.
14:14 If ye shall ask any thing in my name, I will do it.
God will meet your every need that you require to live a productive, healthy life. Now know, He is not the tooth fairy, or the grandfather in the sky who will give you that Mercedes you wish for, or that big house, or all the gold you can stash away. That's why the "prosperity gospel" is so antagonistic to the ways of God. What would we learn, if we had untold riches in this life? It would tie us even more tightly to this world, to its riches, and then to our eventual downfall. We have seen it too many times of the TV evangelist who had proclaimed they knew Jesus Christ, but lived like kings, and were caught in some evil of the flesh that brought them down to the pit. They did not continue to live righteously, but got caught up in this world and its evil lust. This type of boldness is not what I'm referring to. What God wants is the faith, the unbridled audacity to ask of a righteous Judge of something He has already promised us and cannot lie. God already knows what He promised, but He wants to hear that you believe it and will hold onto it with both hands and not let go.
When Jesus spoke of "that men ought always to pray, and not to faint;" in verse one of the parable of the persistent widow, He was speaking of not losing heart. Some people only pray in a crisis and forget to pray also in times of good, and provide a prayer of thanksgiving for what God has already provided. But what are some of the things in our life that can prevent answer to prayer?
There are several major causes: defilement, doubt, danger, distractions, and delay.
» The defilement of sin kills interest in spiritual exercises like prayer. Sin does not promote a good prayer life—in fact, it will stop it dead. "If I regard iniquity in my heart, the Lord will not hear" (Psalms 66:18).
» Praying with doubt is faithless, making the prayer useless. Doubting the inspiration of Scripture and the power of God hinders prayer. I Timothy 2:8 "I will therefore that men pray every where, lifting up holy hands, without wrath and doubting". As prayer and faith go hand in hand, so does unbelief and not praying.
» Prayer must sometimes be done at dangerous times. Danger weeds out the coward from the courageous. Daniel faced real danger in praying, but kept on praying, even though it led to the lion's den (Daniel 6). Today, our dangers are varied, but the danger of embarrassment often affects people more than danger of physical harm.
» Satan is a master of causing distractions, especially during prayer time. Probably every saint has experienced his mind wandering, causing him to think about everything except what he should be praying about.
» Few things cause us to lose heart in praying more than delays in answers to our requests. Jesus uses this parable of the persistent widow to teach us that, though answers often appear to take a long time in coming, we should persevere and not grow weary in praying to God.
Jesus emphasized this when He spoke of asking in prayer, found in Matthew chapter 7:
7:7 Ask, and it shall be given you; seek, and ye shall find; knock, and it shall be opened unto you:
7:8 For every one that asketh receiveth; and he that seeketh findeth; and to him that knocketh it shall be opened.
7:9 Or what man is there of you, whom if his son ask bread, will he give him a stone?
7:10 Or if he ask a fish, will he give him a serpent?
7:11 If ye then, being evil, know how to give good gifts unto your children, how much more shall your Father which is in heaven give good things to them that ask him?
The lesson in all this is that God has assured us that He hears and answers prayer. We must carve out a consistent time in our lives to talk to our Heavenly Father as we would talk to our best friend. He yearns to hear from you and speak with you through His Word. We must have the faith of Christ that God can provide what we need as He enjoys hearing us ask according to His will, and desires to give us abundantly what we should have. Going boldly before God in prayer, shows to our Father that we have the faith in Him that what we understand His promises and believes what He says.
As the old hymn of "Standing on the Promises" says:
Standing on the promises of Christ my King,
Through eternal ages let His praises ring,
Glory in the highest, I will shout and sing,
Standing on the promises of God.
Standing on the promises that cannot fail,
When the howling storms of doubt and fear assail,
By the living Word of God I shall prevail,
Standing on the promises of God.
I urge you to find a time in your busy schedule to find a quiet place in your mind, or your physical prayer closest and say a word of prayer, or thanksgiving to God our Father, praying in Jesus name. As times in this world grow more and more evil and we see the time of the end of the age fast approaching, we must be seeking God in our daily lives, even more fervently. We can't always be in prayer all day long as we wouldn't have time to work out what He has called us to do, but we should be in a state of meditation where God is but a thought away from us any time of the day. To be in a constant state of prayer will move the mountains in your life and be a source of faith and strength. Pray with boldness, audacity, power, and unrelenting faith, as God has said it, He will do it.
The effective, fervent prayer of a righteous man avails much.
If there is anything I can help you with, or pray with you about, or just listen to your needs, drop me a line to realteam1999@sbcglobal.net, This is Mike Taylor, wishing you well, till we meet at Jesus feet. God bless you all.