MARK OF THE BEAST!
31-12-2010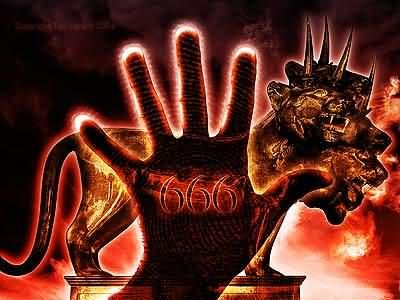 Matthew 24:32-44 "Now [speaking to His disciples] learn this parable from the fig tree: When its branch has already become tender and puts forth leaves, you know that summer is near. So you also, when you see all these things [described earlier], know that it is near—at the doors! Assuredly, I say to you, this generation will by no means pass away till all these things take place. Heaven and earth will pass away, but My words will by no means pass away. But of that day and hour no one knows, not even the angels of heaven, but My Father only. But as the days of Noah were, so also will the coming of the Son of Man be. For as in the days before the flood, they were eating and drinking, marrying and giving in marriage, until the day that Noah entered the ark, and did not know until the flood came and took them all away, so also will the coming of the Son of Man be. Then two men will be in the field: one will be taken and the other left. Two women will be grinding at the mill: one will be taken and the other left. Watch therefore, for you do not know what hour your Lord is coming. But know this, that if the master of the house had known what hour the thief would come, he would have watched and not allowed his house to be broken into. Therefore you also be ready, for the Son of Man is coming at an hour you do not expect."

When will be the return of our Lord, many of my readers ask? When will all these things come to pass? As the above verse notes, no one, not even the Son, or His angels know the exact day or hour, but we are given words of knowledge to know the season of His return. Jesus speaks of as was in the "days of Noah". What was happening in those days?
We live in a world that is both self-obsessed and self-glorifying. People of the world generally believe that present-day civilization is the apex—the very height—of mankind's onward and upward struggle to perfect himself. Mankind during these last days have become more humanistic, more of the pulling-ourselves-up-by-our-bootstraps mentality, we have come to think the opposite of what had always been. We have become a people who worship themselves and their accomplishments. Mankind often now thinks that his best days are yet ahead, and we by our own skills and ingenuity and mind are going to form the golden age of mankind. We are going to make it happen, because this is the best that it has ever been; and it is only going to get better. But are we? Is mankind only going to get even better?
Looking at the opening passage of this message, we see the full context there. Jesus is giving His disciples clues to help them to be alert and ready for His return. On the other hand, He is also warning them strictly that they will not know the time of His return precisely.
Mankind in general thinks things will only get better and they ignore the warning signs that are all around them. They feel with their technology they can conquer anything and "who needs a god" to bring them wealth and happiness? Look how the world has become more and more anti-God and looking to themselves and have thrown God the Father the Son out of their lives.
II Peter 3:1-7 This second epistle, beloved, I now write unto you; in both which I stir up your pure minds by way of remembrance:
3:2 That ye may be mindful of the words which were spoken before by the holy prophets, and of the commandment of us the apostles of the Lord and Saviour:
3:3 Knowing this first, that there shall come in the last days scoffers, walking after their own lusts,
3:4 And saying, Where is the promise of his coming? for since the fathers fell asleep, all things continue as they were from the beginning of the creation.
3:5 For this they willingly are ignorant of, that by the word of God the heavens were of old, and the earth standing out of the water and in the water:
3:6 Whereby the world that then was, being overflowed with water, perished:
3:7 But the heavens and the earth, which are now, by the same word are kept in store, reserved unto fire against the day of judgment and perdition of ungodly men.
II Peter 3:10 But the day of the Lord will come as a thief in the night, in which the heavens will pass away with a great noise, and the elements will melt with fervent heat; both the earth and the works that are in it will be burned up.
God promised Noah that the world would never be destroyed by water, but that the next time, judgment would come by fire and fervent heat and everything will be burned up.
God foreknew that modern man's heart would become as it was in the days of Noah:
6:12 And God looked upon the earth, and, behold, it was corrupt; for all flesh had corrupted his way upon the earth.
6:13 And God said unto Noah, The end of all flesh is come before me; for the earth is filled with violence through them; and, behold, I will destroy them with the earth.
Today, we have become as the days of Noah, as it was predicted and prophesied by Jesus and spoken of by Paul in II Timothy chapter 3:
3:1 This know also, that in the last days perilous times shall come.
3:2 For men shall be lovers of their own selves, covetous, boasters, proud, blasphemers, disobedient to parents, unthankful, unholy,
3:3 Without natural affection, trucebreakers, false accusers, incontinent, fierce, despisers of those that are good,
3:4 Traitors, heady, highminded, lovers of pleasures more than lovers of God;
3:5 Having a form of godliness, but denying the power thereof: from such turn away.
Evil has enveloped almost every part of our world. Are we not like what Paul spoke of? Are we not ungodly in the majority, seekers of pleasures instead of seeking God? Why do you think it would be possible for a man to come to power and hold sway over the whole earth? How is it, that the population will gladly submit to a dictator, the AntiChrist, that will promise them the world. Why? It is because of our sinful nature and looking for an easy fix.
The "Beast" mentioned in Bible prophecy is a governmental system, a revived Holy Roman Empire, headed by an evil human dictator Revelation 17:6-8).
17:6 And I saw the woman drunken with the blood of the saints, and with the blood of the martyrs of Jesus: and when I saw her, I wondered with great admiration.
17:7 And the angel said unto me, Wherefore didst thou marvel? I will tell thee the mystery of the woman, and of the beast that carrieth her, which hath the seven heads and ten horns.
17:8 The beast that thou sawest was, and is not; and shall ascend out of the bottomless pit, and go into perdition: and they that dwell on the earth shall wonder, whose names were not written in the book of life from the foundation of the world, when they behold the beast that was, and is not, and yet is.
II Thessalonians 2:3 Let no man deceive you by any means: for that day shall not come, except there come a falling away first, and that man of sin be revealed, the son of perdition;
2:4 Who opposeth and exalteth himself above all that is called God, or that is worshipped; so that he as God sitteth in the temple of God, shewing himself that he is God.
A man will arise, promising peace and safety, but lead men straight to damnation. Oh, he won't look like an evil person when he appears on the scene, but will promise lies and a restoration of sanity in a world that has gone insane and trouble is all about, either politically, economically, and in the end, spiritually depraved and unredeemable.
This man of sin, who claims to a god in the flesh, this ruler to come, who deceives by lying wonders and is consumed with the spirit of Satan himself, will cause everyone to take a mark of allegiance to his power and his government. It will be a world of glory to humanism and its power, and denying the power that made them, and blaspheming His Holy Name, the Creator of all things. Those that are lovers of themselves will willingly take a mark of allegiance to this ruler, as they just want to continue in their sinful ways and delight in their own unrighteousness. Who doesn't want to continue as things are, and be able to buy and sell in the "new world order"? So what's the problem?
13:16 And he causeth all, both small and great, rich and poor, free and bond, to receive a mark in their right hand, or in their foreheads:
13:17 And that no man might buy or sell, save he that had the mark, or the name of the beast, or the number of his name.
13:18 Here is wisdom. Let him that hath understanding count the number of the beast: for it is the number of a man; and his number is Six hundred threescore and six. (666).
Receiving the Beast's number, name or mark has to do with giving allegiance to the government this dictator will establish and to the false religion that will be an integral part of that system. The Bible uses the symbols of the forehead and the right hand to represent one's loyalty by thought and work—mental and physical allegiance. It will be a most thoughtful and willful act of anyone who submits to this hellish pact of the devil.
Satan the Devil will be the spiritual power behind the Beast (Revelation 13:2),
13:1 And I stood upon the sand of the sea, and saw a beast rise up out of the sea, having seven heads and ten horns, and upon his horns ten crowns, and upon his heads the name of blasphemy.
13:2 And the beast which I saw was like unto a leopard, and his feet were as the feet of a bear, and his mouth as the mouth of a lion: and the dragon gave him his power, and his seat, and great authority.
13:3 And I saw one of his heads as it were wounded to death; and his deadly wound was healed: and all the world wondered after the beast.
13:4 And they worshipped the dragon which gave power unto the beast: and they worshipped the beast, saying, Who is like unto the beast? who is able to make war with him?
The world is fast approaching midnight and the removal of the Church of Jesus Christ, in the twinkling of an eye. Already we see the signs of a "New World Order" developing. Economic forces are growing and becoming unbearable to our present way of life. People like Glenn Beck and Hal Lindsey have been ringing the bell of warning for some time. Some scoff at their analogies. Are they anything but a watchman on the wall? Is anyone listening? Something will have to give. We might see an economic collapse that could be worldwide that will lead to doom and gloom in its early stages leading up to the 7 year tribulation period. Hyperinflation is already forecast for the near future, possibly even this next year of 2011 by leading economist. People will not be concerned with paying their mortgages, or driving their cars, if predictions for hyperinflation come to pass. People will be engrossed in being able to eat and feed their families.
Revelation 6:6 And I heard a voice in the midst of the four beasts say, A measure of wheat for a penny, and three measures of barley for a penny; and see thou hurt not the oil and the wine.
6:7 And when he had opened the fourth seal, I heard the voice of the fourth beast say, Come and see.
6:8 And I looked, and behold a pale horse: and his name that sat on him was Death, and Hell followed with him. And power was given unto them over the fourth part of the earth, to kill with sword, and with hunger, and with death, and with the beasts of the earth.
What He says in v. 6, is a common marketplace call of a merchant shouting out the price of his wares. He is setting relative values for both wheat and barley, with wheat being three times as valuable as barley. However, his price is highly inflated! The "quart" here is choinix in Greek, which is roughly equivalent to our quart, the amount of grain that a normal man needs each day to survive. In ancient times, though, a denarius would buy eight to ten quarts of wheat, not one! Obviously, these are disaster prices.
The "denarius" was equal to an ordinary worker's daily wage. These prices, then, give a person an unenviable choice. If he is single, he can buy the more expensive, more nutritious wheat, yet have nothing left over, or he can buy the cheaper, less nutritious barley and save the remainder for the next day or so. However, if he is married and has children, he can choose only the barley because he needs more than one quart of grain for his family's subsistence. None of these choices really allows the person either to get ahead or to stay healthy, especially if he has dependents. The middle class and the ones on the lower end of the economic scale will be the first to be hit and marked for starvation. The rich, noted by the oil and the wine, will be as they always are, having enough money to buy what they want. Maybe they'll pay higher prices, but they will survive. They will be the elite, the ruling class that are leading this messed up world of chaos. The rest of the economic scale will be in terror. And who is this "voice in the middle of the four living beast"…could it be that it is coming from the very throne of God, as He knows all things? The throne is surrounded by these beast and the prophecy comes from amongst the throne. So the prediction is most troubling for anyone living in these end times.
Make no mistake, men will do anything, say anything, believe anything and do evil if it means surviving another day. In those days, family will turn on one another; it will be a time like no other. Mark chapter 13:
13:12 Now the brother shall betray the brother to death, and the father the son; and children shall rise up against their parents, and shall cause them to be put to death.
13:13 And ye shall be hated of all men for my name's sake: but he that shall endure unto the end, the same shall be saved.
What an awful time, when you can't even trust your own family. People will do whatever it takes when it comes to fill their own stomachs, and against the idea of starvation and impending death. This will proclaim the corruption that is man in its depravity and those apart from God who will do evil to anyone who gets in their way, devouring one another.
In this period, it will be so easy, a "no brainer" to take this little innocent mark, right? To retake some form of equilibrium and stability that has overtaken the world. Who wants to go up against a government that could take your means of living away? All you have to do is just be patriotic and do this little thing, and all will be good with the world, right? Will it?
Revelation 14:9 And the third angel followed them, saying with a loud voice, If any man worship the beast and his image, and receive his mark in his forehead, or in his hand,
14:10 The same shall drink of the wine of the wrath of God, which is poured out without mixture into the cup of his indignation; and he shall be tormented with fire and brimstone in the presence of the holy angels, and in the presence of the Lamb:
14:11 And the smoke of their torment ascendeth up for ever and ever: and they have no rest day nor night, who worship the beast and his image, and whosoever receiveth the mark of his name.
As I wrote back to a reader who asked about the Holy Spirit being removed from the earth when the Church is forcibly removed to be forever with our Lord and Savior, who can be saved during that time?
"I don't feel God's Holy Spirit will be of the fullness to withhold evil, as He takes His hand off current events and allows evil of man's heart to follow its course. All who take the mark of the beast will be damned and only those that believe the message of the 144, 000 evangelists will be saved and they are the ones who will be running for their lives, as they will not submit to the beast power or its worship. From study, 2/3 of mankind will be destroyed, either by man in martyrdom of new found Christians, or the judgment of God, as nature goes completely haywire and the environment becomes hostile to survival and natural disasters are common, like earthquakes, volcanic eruptions, weather storms, hurricanes, flooding, fire from heaven and water needed for life being destroyed and not fit for consumption.

The world will be much like the times of Noah, as man's mind and heart will be evil in everything they do. God will bring judgment on all men who are part of the beast power worship system and will destroy that rebellion.

People who make a decision for Christ will be either martyred, or go into hiding, much like the early Christian Church, when Rome hunted them down as rebels to their authority.
When we leave, and the Holy Spirit that indwells within us is removed along with them, then judgment immediately comes forth, as seal after seal is broken and plague after plague from God is poured out on unrepentant mankind does the working of Satan and his minions. It will be a most horrible time in all of man's deplorable history."
Note my reader, that you will witness the worst of all evil of mankind should you still be a witness and standing, either listening to the news, or having to make a decision of either starvation or submission to a "new world" system. Everyone who has written in this forum are being watchmen on the wall and are sounding the alarm for the coming last days, and the end of the age of grace. It's fast approaching and the approaching hour of midnight is upon us. Your only choice should you live past midnight, is to take the mark of the beast, or die a martyr's death. Chances of hearing or even believing the Gospel will be short in supply. There is a famine coming…not so much of food, but of the hearing of the Word of God.
8:11 Behold, the days come, saith the Lord GOD, that I will send a famine in the land, not a famine of bread, nor a thirst for water, but of hearing the words of the LORD:
This could mean that the famine will be that you will not find a bible, or anyone that will speak to you the Words of God of your bible, or that you will not have the need or ability to even listen or to hear…and will not be able to make a decision for God and Jesus Christ, as your heart will be so far from God, that you will not be able to respond…either way, being part of a recipient of God's wrath will have grown exponentially.
I call upon you, to make a decision for Jesus Christ while there is still time. Time is running out, tribulation is coming, and we all see it just over the horizon, just out of sight. The smell of it is in our nostrils, our minds and in our hearts. We know that trouble is brewing.
Romans 10:13 "For whosoever shall call upon the name of the Lord shall be saved."
John 14:1 Let not your heart be troubled: ye believe in God, believe also in me.
14:2 In my Father's house are many mansions: if it were not so, I would have told you. I go to prepare a place for you.
14:3 And if I go and prepare a place for you, I will come again, and receive you unto myself; that where I am, there ye may be also.
And finally, the mini message of the whole Bible:
John 3:16 "For God so loved the world, that He gave His only begotten Son, that whosoever believeth in Him, should not perish, but have everlasting life.
v. 17, for God sent not His Son to condemn the world, but the world THROUGH HIM, might be saved"
Make that decision for Jesus Christ, in your heart this very moment. Till we meet at Jesus feet, this is Mike Taylor wishing God's blessing on each of you. If there is anything I can pray with you about or counsel you with in a biblical manner, please email me at realteam1999@sbcglobal.net, or visit me on my website, www.churchfogod-usa.org.