BEHOLD THE LAMB OF GOD
11/4/2010
BY MIKE TAYLOR, MINISTER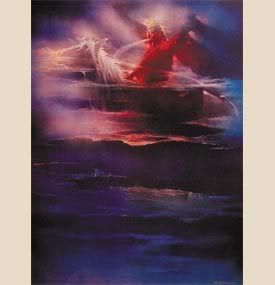 BEHOLD THE LAMB OF GOD
Who is this man who is called the Son of the Most High God? In this day and age of so called modern religious secularism, many professing Christians have a distorted view of who is Jesus Christ. Was He a prophet, a holy man, a fanatic, or was He really who He said He was, the Son of God? If you ask the common man, or even a "church member" they may have totally different ideas of what to do with the life and ministry of Jesus, called the Christ. Who was He? What does He mean to you and to me?
Turn with me now to the book of John in your bibles, and the apostle gives an account of who the man was from first hand, up close and personal observation of who this man was, Jesus Christ.
1:1 In the beginning was the Word, and the Word was with God, and the Word was God.
1:2 The same was in the beginning with God.
1:3 All things were made by him; and without him was not any thing made that was made.
1:4 In him was life; and the life was the light of men.
1:5 And the light shineth in darkness; and the darkness comprehended it not.
1:6 There was a man sent from God, whose name was John.
1:7 The same came for a witness, to bear witness of the Light, that all men through him might believe.
1:8 He was not that Light, but was sent to bear witness of that Light.
1:9 That was the true Light, which lighteth every man that cometh into the world.
1:10 He was in the world, and the world was made by him, and the world knew him not.
1:11 He came unto his own, and his own received him not.
1:12 But as many as received him, to them gave he power to become the sons of God, even to them that believe on his name:
1:13 Which were born, not of blood, nor of the will of the flesh, nor of the will of man, but of God.
1:14 And the Word was made flesh, and dwelt among us, (and we beheld his glory, the glory as of the only begotten of the Father,) full of grace and truth.
Jesus, before He became a man, born of woman, was the Word, according to what John wrote down under the guidance of the Holy Spirit, and first hand observation of the life and ministry of this God/man, known to all of us, as Jesus Christ of Nazareth. Notice that all things were made by Him. So He was and is the creator of all life and matter. Through the direction of God the Father, all power flowed through them as One, being the same in mind and purpose, but distinct in their roles within the Godhead. Through the Word and the power of the Holy Spirit, all life as we know it, came into being from speaking His words to form them.
But let's back up here in the Gospel of John, and let's start when a lamb was portrayed as the symbol of the forgiveness of sin. Turn with me now to Exodus chapter 12:
12:12 For I will pass through the land of Egypt this night, and will smite all the firstborn in the land of Egypt, both man and beast; and against all the gods of Egypt I will execute judgment: I am the LORD.
12:13 And the blood shall be to you for a token upon the houses where ye are: and when I see the blood, I will pass over you, and the plague shall not be upon you to destroy you, when I smite the land of Egypt.
This was the first biblical mention of redemption. When judgment comes against the sins of man, only the blood, the blood of a slain lamb can prevent death to the individual as the Hebrew people found out in this well known biblical passage and seen in great films, such as "The Ten Commandments" that Charleton Heston played Moses in.
During this time of the sacrificial system set up by God for the Israelites, a perfect sacrifice was to be offered to atone of the sins of the people, to cover them, but it never washed them away. It only delayed the penalty until the next year during the Day of Atonement, when it was done all over again.
During the giving of the Law handed down to Moses, it was given because of transgressions of the people and to show them what God expects of mankind and reveals that in no way, can man live up to what God expects. So a lamb, and various animals instructed by God were used to point the people of their need for a savior. Animal sacrifice could not save them, but to focus their attention on the coming Messiah!
Look at Hebrews the 9th chapter and it reveals what these sacrifices were pointing to:
9:19 For when Moses had spoken every precept to all the people according to the law, he took the blood of calves and of goats, with water, and scarlet wool, and hyssop, and sprinkled both the book, and all the people,
9:20 Saying, This is the blood of the testament which God hath enjoined unto you.
9:21 Moreover he sprinkled with blood both the tabernacle, and all the vessels of the ministry.
9:22 And almost all things are by the law purged with blood; and without shedding of blood is no remission.
God is holy and to be cleansed from the filth and corruption of our sinful nature, He must have a perfect sacrifice, as we cannot save ourselves. If that were so, then there would be no sin and no need for a perfect sacrifice, a substitution that is unblemished, pure, and without sin. But who could be that perfect sacrifice?
Let's go back to the Gospel of John. John the Baptist was in full swing of his ministry and was baptizing people in the Jordan River. John chapter 1 starting in v. 29:
1:29 The next day John seeth Jesus coming unto him, and saith, Behold the Lamb of God, which taketh away the sin of the world.
1:30 This is he of whom I said, After me cometh a man which is preferred before me: for he was before me.
1:31 And I knew him not: but that he should be made manifest to Israel, therefore am I come baptizing with water.
1:32 And John bare record, saying, I saw the Spirit descending from heaven like a dove, and it abode upon him.
1:33 And I knew him not: but he that sent me to baptize with water, the same said unto me, Upon whom thou shalt see the Spirit descending, and remaining on him, the same is he which baptizeth with the Holy Spirit.
1:34 And I saw, and bare record that this is the Son of God.
1:35 Again the next day after John stood, and two of his disciples;
1:36 And looking upon Jesus as he walked, he saith, Behold the Lamb of God!
John the Apostle was witness of this as John, the Baptist made this profound statement that was revealed to him by the Holy Spirit lighting on Jesus in the form of a dove and a voice coming from heaven saying "This is my beloved Son, in whom I am well pleased". As recorded in Matthew 3:17. Read the account leading up to John the Baptist seeing Jesus coming to him for immersion in the waters of the Jordan River in this passage of Matthew chapter 3.
God was showing these individuals a preview of the perfect sacrifice. That it took God himself, coming in the form of a man, living a perfect sinless life, to rescue you and me from the clutches of sin and our just reward, death. But God sent His Son in the form of Jesus Christ, as Isaiah proclaims:
53:1 Who hath believed our report? and to whom is the arm of the LORD revealed?
53:2 For he shall grow up before him as a tender plant, and as a root out of a dry ground: he hath no form nor comeliness; and when we shall see him, there is no beauty that we should desire him.
53:3 He is despised and rejected of men; a man of sorrows, and acquainted with grief: and we hid as it were our faces from him; he was despised, and we esteemed him not.
53:4 Surely he hath borne our griefs, and carried our sorrows: yet we did esteem him stricken, smitten of God, and afflicted.
53:5 But he was wounded for our transgressions, he was bruised for our iniquities: the chastisement of our peace was upon him; and with his stripes we are healed.
53:6 All we like sheep have gone astray; we have turned every one to his own way; and the LORD hath laid on him the iniquity of us all.
53:7 He was oppressed, and he was afflicted, yet he opened not his mouth: he is brought as a lamb to the slaughter, and as a sheep before her shearers is dumb, so he openeth not his mouth.
53:8 He was taken from prison and from judgment: and who shall declare his generation? for he was cut off out of the land of the living: for the transgression of my people was he stricken.
53:9 And he made his grave with the wicked, and with the rich in his death; because he had done no violence, neither was any deceit in his mouth.
53:10 Yet it pleased the LORD to bruise him; he hath put him to grief: when thou shalt make his soul an offering for sin, he shall see his seed, he shall prolong his days, and the pleasure of the LORD shall prosper in his hand.
In passage after passage, if you do a word search of any bible program and look up the topic Lamb of God, it will give you example after example of the shedding of blood of an innocent lamb as a lesson of what it would take to save the entire human race that would put their trust and belief in THE Lamb of God, Jesus Christ.
What do you do after you've read the words of what God has intended to deliver to you in His Word? Do you scoff, or do you see something that pricks your heart and makes you want to seek more information about this man, Jesus Christ? Who is this man?
"For God so loved the world, that He gave His only begotten Son, that whosoever believeth in Him, should not perish, but have everlasting (ETERNAL) life. God sent not His Son into the world to condemn the world, but that the world through Him might be saved "John 3:16-17.
It's not anything we've done, but of His mercy and desire to save us to the uttermost.
Ephesians 2:8-10 For by grace are you saved through faith; and that not of yourselves: it is the gift of God. Not of works, lest any man should boast.
Yes, my friend, God came as Jesus Christ in the likeness of men, born of woman, and lived a sinless life, as found throughout the first four books of the New Testament called the Gospels, or "good News". He was falsely accused, sentenced to death even though righteous, and crucified upon a wooden instrument of Roman death, as was the plan of salvation before the foundation of this world. He was resurrected to life on the third day as reported by eye witness accounts in your Bible.
Romans chapter 5:
5:6 For when we were yet without strength, in due time Christ died for the ungodly.
5:7 For scarcely for a righteous man will one die: yet peradventure for a good man some would even dare to die.
5:8 But God commendeth his love toward us, in that, while we were yet sinners, Christ died for us.
5:9 Much more then, being now justified by his blood, we shall be saved from wrath through him.
5:10 For if, when we were enemies, we were reconciled to God by the death of his Son, much more, being reconciled, we shall be saved by his life.
5:11 And not only so, but we also joy in God through our Lord Jesus Christ, by whom we have now received the atonement.
Remember in the first part of this message, that the Day of Atonement came around once a year to remove the sins of the people, until the next year? This time, the sacrifice was God's only Son, and it has been done once for all time.
Titus, chapter 2:
2:11 For the grace of God that bringeth salvation hath appeared to all men,
2:12 Teaching us that, denying ungodliness and worldly lusts, we should live soberly, righteously, and godly, in this present world;
2:13 Looking for that blessed hope, and the glorious appearing of the great God and our Saviour Jesus Christ;
2:14 Who gave himself for us, that he might redeem us from all iniquity, and purify unto himself a peculiar people, zealous of good works.
This previous verse leads me into the near future of the reappearing of the Lamb of God. If you turn with me to the last book of the Bible, a book called Revelation. We see a different form of what the Lamb of God means in the end of days.
Revelation chapter 5:
5:1 And I saw in the right hand of him that sat on the throne a book written within and on the backside, sealed with seven seals.
5:2 And I saw a strong angel proclaiming with a loud voice, Who is worthy to open the book, and to loose the seals thereof?
5:3 And no man in heaven, nor in earth, neither under the earth, was able to open the book, neither to look thereon.
5:4 And I wept much, because no man was found worthy to open and to read the book, neither to look thereon.
5:5 And one of the elders saith unto me, Weep not: behold, the Lion of the tribe of Juda, the Root of David, hath prevailed to open the book, and to loose the seven seals thereof.
5:6 And I beheld, and, lo, in the midst of the throne and of the four beasts, and in the midst of the elders, stood a Lamb as it had been slain, having seven horns and seven eyes, which are the seven Spirits of God sent forth into all the earth.
5:7 And he came and took the book out of the right hand of him that sat upon the throne.
This is the Lamb of God that begins to open the seals one by one, and as you read, you see the wrath of God unleashed on an unrepentant world that has rejected His message, His salvation, His grace, and His mercy. Seal upon seal is opened to purge this earth of rebellion and preparing it for His final return to reign and rule with a rod of iron all who are left upon the earth and set up His millennial kingdom for 1000 years.
Revelation chapter 19:
19:11 And I saw heaven opened, and behold a white horse; and he that sat upon him was called Faithful and True, and in righteousness he doth judge and make war.
19:12 His eyes were as a flame of fire, and on his head were many crowns; and he had a name written, that no man knew, but he himself.
19:13 And he was clothed with a vesture dipped in blood: and his name is called The Word of God.
19:14 And the armies which were in heaven followed him upon white horses, clothed in fine linen, white and clean. (a sign of the saints)
19:15 And out of his mouth goeth a sharp sword, that with it he should smite the nations: and he shall rule them with a rod of iron: and he treadeth the winepress of the fierceness and wrath of Almighty God.
19:16 And he hath on his vesture and on his thigh a name written, KING OF KINGS, AND LORD OF LORDS.
As you read, our God, our Savior puts down rebellion in short order with the sword of His mouth…HIS WORD. This is the same word that formed you and me and all of creation. He will set up His kingdom and return the earth to its natural pure state. Remember, He came first as an innocent lamb, sinless, perfect, and a holy sacrifice. This time, my reader, He comes as a conquering King and Warrior with fierce wrath to remove the ungodly from His creation. Where will you stand, my friend?…will you be on white horses clothed in fine linen, white and clean watching Him wage war upon an unrepentant, unholy world, or will you be the focus of His wrath?
Take this opportunity to change the direction of your life. Confess your sins to the One who can show mercy and grace to you and I, the sinner. Repent of those sins and commit your remaining days to walk as He walked on this earth and follow His example on how to live your life, for Him, not for yourself. Do it today, where there is still time. The hour is approaching midnight when time will have run out.
BEHOLD THE LAMB OF GOD THAT TAKES AWAY THE SINS OF THE WORLD.
"You can almost hear the footsteps of the Messiah"…I just love that quote by Jack Kelley. It's so true.
If there is anything that I can help you with, prayer, biblical instructions on Christian living, or just to listen, send me an email to realteam1999@sbcglobal.net This is Mike Taylor, wishing you well, till we meet at Jesus feet.