FOUR HORSEMEN PREPARE TO RIDE
09-11-2010
by Mike Taylor, Minister of the Church of the Living God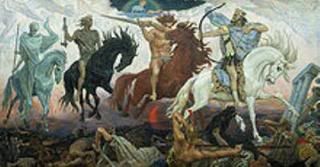 FOUR HORSEMEN PREPARE TO RIDE
The world is in economic upheaval. Never before has the world economy been as we see it today. Could it get even worse? Are you prepared for what is coming on the face of the earth? And the focus of the message, are the four horsemen of the Apocalypse preparing to ride?
John the Beloved Apostle, wrote down what Jesus Christ revealed to him what will happen in the last days. Concerning this prophecy we turn to Revelation the 6th chapter, John gives us a vision that was given to him by our Lord Jesus:
6:1 And I saw when the Lamb opened one of the seals, and I heard, as it were the noise of thunder, one of the four beasts saying, Come and see.
6:2 And I saw, and behold a white horse: and he that sat on him had a bow; and a crown was given unto him: and he went forth conquering, and to conquer.
6:3 And when he had opened the second seal, I heard the second beast say, Come and see.
6:4 And there went out another horse that was red: and power was given to him that sat thereon to take peace from the earth, and that they should kill one another: and there was given unto him a great sword.
6:5 And when he had opened the third seal, I heard the third beast say, Come and see. And I beheld, and lo a black horse; and he that sat on him had a pair of balances in his hand.
6:6 And I heard a voice in the midst of the four beasts say, A measure of wheat for a penny, and three measures of barley for a penny; and see thou hurt not the oil and the wine.
6:7 And when he had opened the fourth seal, I heard the voice of the fourth beast say, Come and see.
6:8 And I looked, and behold a pale horse: and his name that sat on him was Death, and Hell followed with him. And power was given unto them over the fourth part of the earth, to kill with sword, and with hunger, and with death, and with the beasts of the earth.
When we read this passage, the imagery is terrible in its end results and the destruction and death that are inflicted on a godless world we live in. Revelation by its name implies, "to be revealed". Its language is symbolic in some applications to real world events.
Let's look around us and see if we see anything we can point to that says that the prophecy could be close at hand.
According to the National Inflation Association (NIA), this is an organization that is dedicated to preparing Americans for the coming hyperinflation and assisting the survival of its citizens. They write:
"The National Inflation Association today announced the release of its report about NIA's projections of future U.S. food price increases due to the massive monetary inflation being created by the Federal Reserve's $600 billion quantitative easing. This report was written by NIA's President Gerard Adams, who believes food inflation will take over in 2011 as America's greatest crisis. According to Mr. Adams, making mortgage payments will soon be the last thing on the minds of all Americans. We currently have a currency crisis that could soon turn into hyperinflation and a complete societal collapse."
How did this happen? It's been going on right under our noses and no one is paying much attention. The USA has been the leader of the free world for over a century and more so in the last 30 years, and the world's economy is based around the value of the almighty dollar. Recently, the value of the dollar has been declining rapidly. Why? It is because of mounting debt. We have increased our debt in the last two years by a whopping 5 trillion dollars. And if we add up all the entitlements and handouts that the government is guaranteed to pay, the figure is not the stated $14+ trillion, but $120 trillion in unfunded spending and liability. The figures are staggering. There is no way that one nation can pay that debt off, let alone it's interest.
China has been buying our debt for a number of years and is our main financier and debt holder of US bonds (IOU's). It has been reported by economist and news commentators that if China were to suddenly stop buying our debt that America would collapse in (are you ready?) 15 days to a third world banana republic!! The dollar is being manipulated and the elite billionaires that are behind the "orderly decline of the US dollar" stand to make a profit on our demise. Why would they do that? Obviously, money, but more obscure is the final outcome, A NEW WORLD ORDER. That is the final goal. The coming one world government will be because of economic collapse of the whole world and the human desire to survive at any price.
The Federal Reserve is now monetizing our debt by printing more money, out of thin air. They call it quantitative easing. The NIA states." Quantitative easing is nothing more than the Federal Reserve printing money and creating inflation. This quantitative easing steals from the purchasing power of the incomes and savings of all Americans. While Americans are distracted by the mainstream media with daily debates by the Democrats and Republicans about taxes, U.S. taxes have almost no where near the effect on the lives of middle class Americans as does the Federal Reserve's monetary policy and quantitative easing. Instead of millions of Americans attending "tea party" events in Washington with Glenn Beck and Sarah Palin, they should be marching outside of the Federal Reserve building in New York chanting "End the Fed".
Let's look at history, which we are repeating. During the depression, there was also one going on in Europe. The currency collapsed and the money they used became worthless. It took a cart full of money to buy one loaf of bread.
Revelation 6:5-6: "And when he had opened the third seal, I heard the third beast say, Come and see. And I beheld, and lo a black horse; and he that sat on him had a pair of balances in his hand.
6:6 And I heard a voice in the midst of the four beasts say, A measure of wheat for a penny, and three measures of barley for a penny; and see thou hurt not the oil and the wine."
Can we see that happening right now? Predictions are that this economic pied piper will have to be paid starting in the second quarter of 2011. The year will be marked by extreme hardship and fear of starvation of whole groups of people. In the old days, of your grandparents, they grew what they needed to live. We can't say that today. The family farm is gone. Most people or a large majority, live in suburbs or large cities. What will they eat when food is beyond their ability to purchase?
How bad could it get? Items such as corn as a commodity will cost $7 an ear….AN EAR? Coffee for a 1# can is projected to cost $75, if you can find it. Bread will cost $25 a small loaf that we could get 3/$1 not too long in the distant past. Chocolate will cost $15 for a Hershey bar. Milk will cost $22 for a quart. These are just samples, and the rest of the commodities that we all buy will increase in kind. These are outrageous prices. No one in the low end of the economic scale will be able to survive. Famine is already here in other countries, but prices will prevent the average low and middle class American from being able to eat. We used to be the bread basket of the world, but no more. We have contracted to where it will difficult to feed ourselves, even if you could afford it.
WHAT TIME IS IT?
What will be happening in the streets of large cities? Totally chaos and anarchy, as someone who watches their kids starve will do things that they wouldn't have dreamed of prior to this economic collapse. Food will be scarce and expensive. Wal-mart will be cleaned out in two days because of the stampede to horde as much food as possible, as well as any grocery store in your local community. The carnage in Greece, France and Spain will be coming to America and it's going to be world wide. Starvation leads to anarchy, which leads to war for survival, between countries, that leads to more death and the fulfilling of this prophecy.
The preceding events could usher in the final "king" to come. The world will be looking for someone to make sense of all this and end the pain and suffering.
Revelation 6:2 And I saw, and behold a white horse: and he that sat on him had a bow; and a crown was given unto him: and he went forth conquering, and to conquer." This is a picture of the coming "Anti-Christ" who will step out of the shadows and offer a way out. All who are of this world will flock to him, as their "savior". (sic)
Now are these predictions and their timetable set in stone? Do we know for a fact that 2011 will be as bad as they predict? Of course not. But a wise person makes plans in the face of mounting evidence that we are on the cusp of some very hard times. A wise person puts back staples, water, food and basic supplies to weather the start of this collapse, but no one can weather the flood of economic indicators that say it will be as bad or worse, then the Great Depression. If we, who have faith in our Lord and Savior Jesus Christ, are still here to see the start of this economic crash, we will must rely and have faith in the One who has sustained us and will continue to sustain us even in hard times.
Some will read this and view this as fear mongering, or conspiracy theories. I ask that you not take my word for it, but do your own homework. I implore you to visit sites such as these:
http://www.inflation.us/quantitativeeasing.html
http://online.wsj.com/article/SB10001424052748703514904575602820114533804.html?mod=WSJ_hp_LEFTTopStories,
http://online.wsj.com/article/SB10001424052748704506404575592313664715360.html
And finally God's Holy Word is the final authority for the details and the timeline of coming events. We are just watchmen.
God's Word says that we are to be a watchman on the wall. If we do not warn the people and they are destroyed, then their blood will be on our hands. But if we warn them, and they do not heed that warning, then their blood is on their own heads, but we have delivered our soul. You can find this in Ezekiel chapter 33,
33:2 Son of man, speak to the children of thy people, and say unto them, When I bring the sword upon a land, if the people of the land take a man of their coasts, and set him for their watchman:
33:3 If when he seeth the sword come upon the land, he blow the trumpet, and warn the people;
33:4 Then whosoever heareth the sound of the trumpet, and taketh not warning; if the sword come, and take him away, his blood shall be upon his own head.
33:5 He heard the sound of the trumpet, and took not warning; his blood shall be upon him. But he that taketh warning shall deliver his soul.
33:6 But if the watchman see the sword come, and blow not the trumpet, and the people be not warned; if the sword come, and take any person from among them, he is taken away in his iniquity; but his blood will I require at the watchman's hand.
PROMISES FROM OUR REDEEMER
But let's look at the sequence of events leading up to this economic collapse and the coming of the four horseman of the Apocalypse. If we take our Bible seriously, then we read in chapter 5, that Jesus takes the scroll out of the Father's hand to open the 7 seals and the beginning of judgment on the earth of unrepentant mankind and a godless world. He doesn't open them till Chapter 6. If we are right, and the interpretation of our Bible is correct, and I believe it is, we ARE NOT HERE!!....the church that is….we have been removed according to what Jesus said concerning this coming judgment and the beginning of the pouring of His wrath on this earth.
Revelation 3:10 Because thou hast kept the word of my patience, I also will keep thee from the hour of temptation, which shall come upon all the world, to try them that dwell upon the earth."
1 Thessalonians 1:10 And to wait for his Son from heaven, whom he raised from the dead, even Jesus, which delivered us from the wrath to come.
1 Thessalonians 5:8 But let us, who are of the day, be sober, putting on the breastplate of faith and love; and for an helmet, the hope of salvation.
5:9 For God hath not appointed us to wrath, but to obtain salvation by our Lord Jesus Christ,
5:10 Who died for us, that, whether we wake or sleep, we should live together with him.
5:11 Wherefore comfort yourselves together, and edify one another, even as also ye do.
Think of my brother, if the economic turmoil that is predicted for 2011 comes to pass, and sets the stage for the coming of a one world government, and the revealing of the "Anti-Christ", the last king to come, then we are closer to the appearing of our Lord and Savior to REMOVE His church from this earth than we even think.
WE HAVE NOTHING TO FEAR, BUT FEAR ITSELF
You, who are witnessing these events right along with Christians of this age of grace, do you fear what is coming on the face of the earth? If you don't now, you will and you will believe anything, do anything, say anything, and believe any lie to just survive. You don't have to endure this coming destruction, death, and suffering from a world in economic collapse. It may be even closer than any of you may think as prophesied in Revelation and prophecies the coming of the four horsemen of the Apocalypse. Could all this come to pass in 2011? It's predicted, but it's not for us to set a date, but as we come closer and closer to mankind's head long dive into economic uncertainty, would it not be advisable to put your trust in the One who can deliver you from the coming destruction? If you taste any of the economic problems leading up to this One Word Government, then would it not be wise to put your faith in the One who made you, loves you, and wishes to live with you, FOREVER? Listen to that still small voice inside of you, which is the Holy Spirit calling you. How do you do this, you say?
A CALL TO REPENTENCE
Believe on the Lord Jesus Christ as your Savior, as the scripture plainly reveals. Read the Gospel of John in the dusty book on your shelf called "the Bible". Repent of your lifestyle and the sins you have committed in rebellion against God, and pray for God to reveal His Son to you through those precious Words. Believe in your heart that Jesus lived, died and rose again to live forever, even as He wants you to live…forever, eternally. Then when you have made a commitment to live, as He lived and believing in your heart and soul the Jesus died for your sins and the sins of the whole world, then you can say with me according to scripture:
" Luke 21:27 And then shall they see the Son of man coming in a cloud with power and great glory.
21:28 And when these things begin to come to pass, then look up, and lift up your heads; for your redemption draweth nigh.
So come Lord Jesus. As Jack Kelley says, "you can almost hear the footsteps of the Messiah."
In your service and to our Lord's service, this is Mike Taylor, wishing God's speed, till we meet at Jesus' feet.